Challenge Task: Paddle Strike
Task Description:
Strike a ball with a short or long-handled paddle or racket in the air continuously for 60 seconds to your self while remaining in a 3-4 foot diameter space, e.g. hoop, jump rope formed into a circle. The circle must remain stationary for the entire 60 seconds.
Pictures/Videos of this Challenge
Administering this Challenge:
Equipment:
Short or long-handled paddles (foam, plastic, wooden)
Short or long-handled lightweight rackets
Ball (foam, tennis, yarn, whiffle, etc.)
Hoops or jump rope (to mark diameter on ground)
Measurements:
Place hoop or jump rope formed into a 3-4 foot diameter circle on the ground. Both feet must remain in the hoop at all times during this challenge. The circle must remain stationary during the task.

If youngsters step outside of the circle or miss a strike, please have them start the challenge over.
Starting and Stopping:
Administer the challenge using either hand ("Go" hands up and "Stop" hands down) and/or verbal Go and Stop signal.
Challenge Diagram: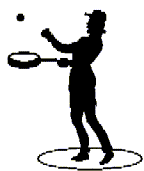 Challenge Comments:
There is no limit to the number of attempts to satisfactorily complete this challenge. To increase participation, consider setting up several striking stations.

Tennis-sized foam balls, yarn balls and short-handled rackets are recommended for better ball control.
"Grip": Use shake-hand grip to hold the paddle/racket.

"Bend Knees": Keep your knees slightly bent.

"Firm Wrist": Wrist stays firm.

"Strike": Strike the ball upward and keep the paddle in a "flat" position.

"Flat racket/paddle": Face of paddle/racket points to the sky or ceiling.

"Strike": Strike the ball upward in front of body.
Practice Tasks:
Strike upward a ball suspended with a rope.

Strike a balloon upward with a lightweight paddle.

Balance balls and objects on a paddle while remaining stationary or traveling.

Strike a ball in the air continuously with a paddle.
Ideas Adapting Challenge for Students with Disabilities:
Strike whiffle ball off tee with bat 10 times
Kick a ball into a designated area 15 times
Self throw a scarf to self 10 times
Increase or decrease time
Use different kinds of paddles or racquets
strike ____ wiffle balls on tee with bat into fair territory. (or hit bleachers, gradually move the tee farther from the bleachers)
kick rolling ball into fair territory ____ times
strike ___ wiffle balls off tee with hand (side arm strike)
strike teacher tossed balloon with racket ____ times
strike wiffle or balloon suspended from string using side arm pattern ____ times
self volley balloon with racket continuously for ____sec. while standing in 3-4 diameter space
Helpful References for this Challenge:

Graham, G., Holt/Hale, S. & Parker, M. (1998). Children Moving: A reflective approach to teaching physical education (4th Edition). Mayfield: Mountain View, California.(Chapter 29: Striking with Rackets & Paddles, pp. 555-580)
United States Tennis Association School Programs, Tennis Curriculum. (1993). United States Tennis Association. New York, NY: White Plains (pp. 21-24).

Fronske, H. A. (1997). Teaching Cues for Sport Skills. Needham Heights, MA: Allyn & Bacon, (pp. 221-222).

Douglas, P. (1991). Learn Tennis in a Weekend. New York, NY: Knopf. (pp. 28-31).

Douglas, P. (1991). The Handbook of Tennis. New York, NY: Knopf. (pp. (38-34).