Welcome to the Cooperative Skills Challenge
, the free Challenge that has been completed by over
1 million children
! Six fun and motivational tasks await the teachers who register for the Cooperative Skills Challenge! Students practice and formally take the challenges. Teacher records results and can purchase award pins from the
S&S Discount Sports website
and receive 15% off plus FREE shipping on orders over $25. Use offer code B4260 when ordering.
How the Challenge Works
Announcement:
New member registration is open all year round now! After you register, complete the Challenge with your students, record the number of pins earned and then return to this site and order your pins. Just log in using your username and passowrd.
Upon completion of the program, you can order Challenge award pins at the S&S Discount Sports website and get 15% off plus FREE shipping on orders over $25. Use offer code B4260 when ordering.
Log in with your UN and PW to order pins and update information
Contact us:

[email protected]

Award Pins that you can purchase are pictured below


Click on image to see descriptions of each of the 6 challenge tasks...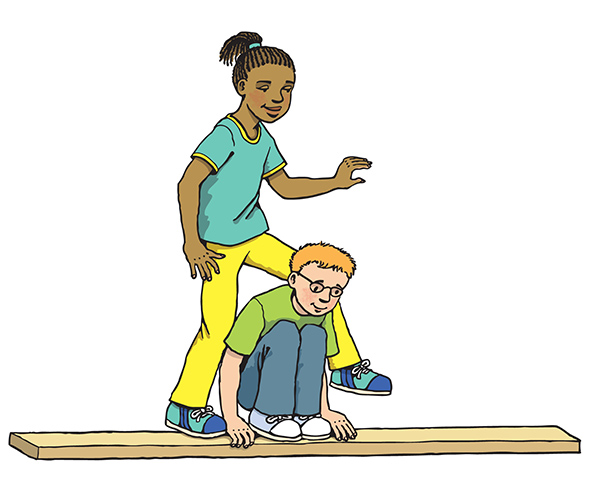 At-A-Glance
* 6 Skills Tasks for 4th/5th Graders
* Awards: Bronze (4/6), Silver(5/6), Gold (6/6)
* FREE Registration!
* Dates: Sept.-May
* More details here...
Testimonials
"What a terrific idea! The children at my school are having a ball! They are practicing every chance they get and can't wait for someone to check them out so they can pass a challenge and move to another one. I started by having one class period to introduce the challenges and allow practice time. I had a couple of my best students already pass 5 of the challenges. The recess people are excited about the challenges too because all the students are practicing. Thank you PE Central for this great opportunity!"

"I teach multi-handicapped students at a school for the visually impaired and blind. The challenges have been easy to modify to meet specific needs. Many of the challenges are helping me to document IEP goals. Thank you for providing a great opportunity."